Bob Stonewater's
Central Florida Big Bass Fishing Guide Service
Catching Trophy Bass Year-Round
Near the Beaches in Daytona and Disney in Orlando Located in DeLand on the St. John's River
386-717-6289
robertstonewater@gmail.com
Click Here to Contact Me
Austin Big Catch! 13.6 pounds
To Read More Click Here

My Big Bass Fishing Guide Service has been in business since 1976. I fish the St. John's River and many other Central Florida Bass Fishing waters: Rodman Reservoir, Suwanee River, Lake Russo, Farm Pond 13, Stick Marsh and many more. I fish wherever bass fishing is best in Central Florida.
What Can You Expect If You Fish With Me?
Click Here To Learn More About Bob

Bob's Big Bass Guide Service has been featured on ESPN, In-Fisherman TV, and in Florida Sportsman, Outdoor Life, Bill Dance's Fishing, Fishing Facts, and Bass'n as one of the best big bass guide services in Central Florida.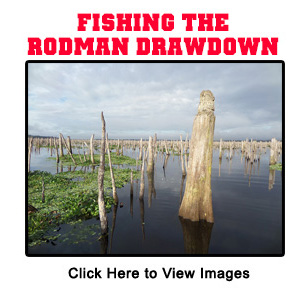 You don't need to have fishing experience to catch bass with me!
Call 386-717-6289 today!
Your Big Trophy Bass is waiting...
In-Fisherman Recommends Bob Stonewater as THE Guide for catching Trophy Bass in Florida!
I recently had the pleasure to fish with a man I very much admire, Steve Quinn, Senior Editor, Author, and Field Writer for In-Fisherman. After a successful day of wild-shiner fishing for big bass on the St. Jons River (DeLand, Florida), Steve told me that in all his 25 years of filming for In-Fisherman TV, they had never caught as many lunker bass (ranging from 7-10 pounds) as he did that day with me. At the end of the trip, Steve genuinely thanked me for knowing where to find fish; I likewise thanked Steve for knowing how to land them.
Paul's 12 lb
Danell's 14+
Bill's 12 lb
Chuck's Almost 15 lb
The St. Johns River offers good fishing all year and is one of the most scenic fishing waters you will ever experience. Bass, Crappie, Stripers, hybrids and Catfish all thrive in the St. Johns River. Lakes, small backwater tributaries and freshwater springs are all part of the 350 mile long St. Johns River. Because of the unique variety of the St. Johns River I have very good Big Bass fishing areas for all types of weather conditions.
Pontoon boats available for larger groups or families
Accommodations for persons with disabilities
Additional guides available for larger groups
Tackle Furnished - Live Bait or Artificial's
Large Groups "OK"
---